Find the Parts Your Ford Vehicle Needs Today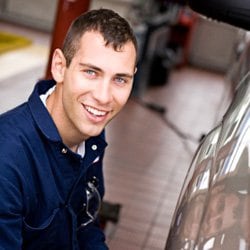 When you hear the suggestion of bringing your Ford F-150 to an independent shop, you probably laugh. You know better because those shops tend to stock aftermarket parts that don't have any business in your Escape or Expedition. These products are inferior and cannot withstand the type of performance specifications of your Ford car, truck, or SUV. Only OEM-approved parts can do the job, and you don't want anything less than perfect when it comes to your Ford Focus.
Your Next DIY Project or Customization is in Good Hands
The parts we carry are designed to help your model stay in the best shape possible, and when you go to step on the brakes, you want to know that the pads and rotors used during your last service are capable of withstanding the amount of pressure it's put under. A Ford Mustang has different specifications than a Ford Fiesta, and we'd never dream of interchanging the products needed for their optimum performance. Each model has different needs, and our team is trained to diagnose and repair every service need for your Ford vehicle, and our knowledge is beneficial to you.
Since we know your vehicle inside and out, you know that we will do the best job possible to get you in and out fast with the best results. Whether you need tires that can hold up against the high-performance sportscar you drive, or your wiper blades need to be replaced, we have the stock that you need. You can do it yourself or entrust your car into the hands of our service team and rest assured that the job will be done right.
Take advantage of our expertise and reach out to us with questions or to order your products. Whether you're showing your Ford spirit with accessories or you're ordering an oil filter, the peace of mind you get knowing that the products we sell are made for your vehicle isn't interchangeable. You won't feel this way when buying aftermarket parts, and the ease of obtaining parts through our department is something you'll never forget. Fill out our parts order form to get started, or visit us today.